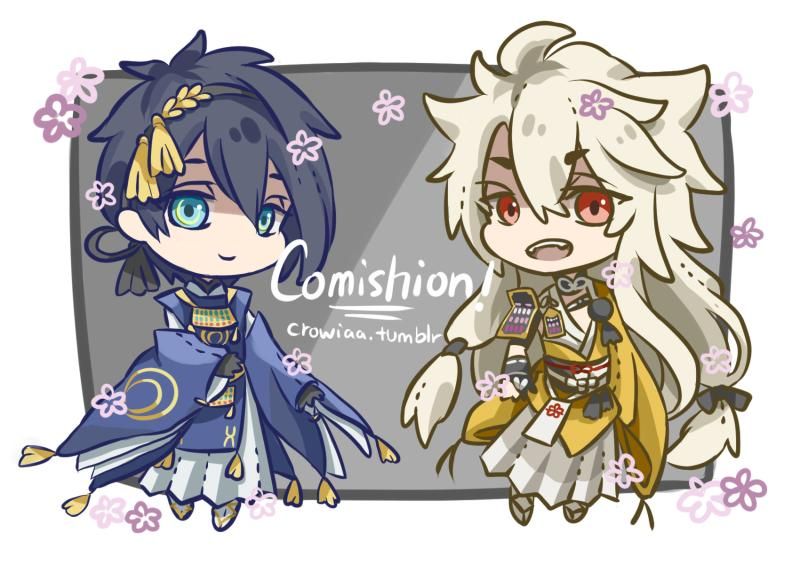 All commission updates will be at

!

COMMISSION DETAILS (March 2015)
What I will be doing:
Taking CHIBI commissions (as shown)
What you will receive:
A digital copy of your commissioned artwork in .PNG (300 dpi) (transparent background) (quite big!)
Full entitlement to use it for PERSONAL use
You can print it in whatever form, use it to decorate your profiles, make minor edits, show it off, etc
However, you CANNOT:
Resell the artwork in any form!
Claim that it is done by you or any other persons except me (please credit to crowiaa.tumblr.com)
——-
If interested, please email me at crowiaa@outlook.com with the subject COMMISSION and with your reference(s) attached.
One full coloured detailed chibi = 20 USD
Additional characters interacting in the same picture is +15 USD per character
If character is too detailed I may add another 1-3 USD each!
Payments by PAYPAL! Bank transfer only if you're in Singapore!
I will only start when I have received your full payment.
PLEASE STATE WHO YOU ARE when you email me! A simple "so and so from tumblr/twitter/dA/fb/etc" is enough so I can properly note you down!
All commissioned artworks may be used by me for my own promotional purposes in the future.
——-
\\\ THANK YOU FOR TAKING THE TIME TO READ THIS! ///
ヾ(๑╹ヮ╹๑)ノ"